Winner of The NY International Independent Film Festival Award as Best Historical Drama is the filmed version of the critically acclaimed play.
A Tribute to
Ernest Hemingway
A New Two-Character Award-winning Film
About the Life and Loves of Ernest Hemingway
An interpretation of Hemingway's life
Conceived and Written by
Starring Jordan Rhodes and Lynn Moore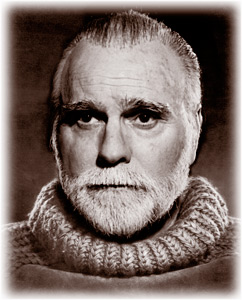 PAPA "the man, the myth, the legend" - A Tribute to Ernest Hemingway -The film version is currently showing in Art House Theatres. For information regarding an independent Art House in your area, Email: Rhodesjrtalk@aol.com

Soon to be released on DVD!
Playwright Ken Vose and performer Jordan Rhodes, a popular and successful actor in film and television for more than thirty years, have joined together to bring audiences an interesting, compelling and entertaining film about Ernest Hemingway, one of our greatest literary artists. This tribute to "Papa" Hemingway, reveals a vulnerable, deeply troubled man, whose fight with his own inner demons produced some of the greatest fiction of the twentieth century.
The film begins and ends on the morning of July 2, 1961, the last day of Hemingway's life. Told in flashback, PAPA presents the triumphs and tragedies of Hemingway's fascinating life. From the battlefields of World War One, to the Paris cafes of the roaring twenties, the Spain of Civil War and bullfights, Sloppy Joe's in Key West Florida, France during World War II, fishing for Marlin and U-boats off Cuba, or on Safari in Africa, Hemingway was there.